Saint Agnes Bariatric Surgery Center adheres to highest current standards of care and is fully credentialed Comprehensive Bariatric Program by MBSAQIP, a joint program of the American College of Surgeons (ACS) and American Society for Metabolic and Bariatric Surgery (ASMBS). Besides this professional endorsement, our program maintains separate credentialing for bariatric surgery center of choice from CareFirst BlueCross BlueShield, Aetna, Cigna and UnitedHealthcare (MAMSI) insurance companies.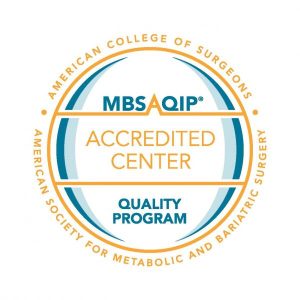 Why Choose Our Practice?
The Saint Agnes Bariatric Surgery program was established in 2001, has been a Center of excellence since 2006, and has been fully Credentialed Comprehensive Bariatric Surgery Center since 2013. We provide comprehensive care with highly trained staff of Bariatric Nurses, anesthesiologists and all other needed specialists to assist us in your care.
We will spend time listening to you and addressing all your questions. Our practice philosophy is to provide you with best guidance both before and after surgery with lifetime commitment.
We have performed >5,000 gastric sleeves, bypasses and revision procedures, and perform only proven laparoscopic surgical procedures endorsed by ASMBS.
Our objectives are to choose the most appropriate procedure for you based on initial weight and spectrum of medical conditions and perform procedure that is right for you with highest degree of safety.
Our program focuses on preoperative patient's education, preparation, risk reduction followed by adequate support systems after surgery to ensure long-term success.
After surgery, we focus on close and lifelong follow up care that includes life style and eating habits modification to achieve adequate weight loss, resolution or remission of co-morbid conditions and assist with weight loss maintenance for years to come.
We are available 24/7 and 365 days a year to address any potential issues and side effects that might arise. We also will assist you in every possible way with insurance coverage and minimizing your personal expenses.