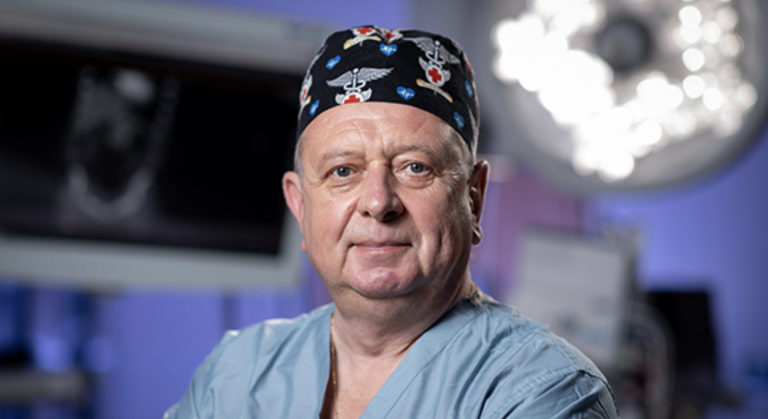 Dr. Andrew Averbach is a board-certified general and bariatric surgeon with more than 40 years of experience in general surgery. The Ascension Saint Agnes Bariatric Surgery Center performs more bariatric surgeries than any other program in the state of Maryland, and Dr. Averbach is proud of the more than 4,500 safe, effective weight loss procedures he has performed since 2002 to help people change their lives and transform their health for good.
Dr. Averbach earned his medical degree from N. Pirogov State Medical School in 1979 and completed surgical research at the Hertzen Cancer Research Institute, before immigrating to the United States in 1992 and becoming a Gastro-intestinal Clinical Research Fellow at the Washington Cancer Institute, Washington Hospital Center.
After extensive training in general and bariatric surgery, Dr. Averbach joined the Ascenion Saint Agnes surgical team in 2002 and has helped build the   Ascension Saint Agnes Bariatric program into a Center of Excellence recognized by the ASMBS/ACS Bariatric Credentialing Network.
Dr. Averbach and his team offer Roux-en-Y gastric bypass, vertical sleeve gastrectomy (aka as Gastric Sleeve or Sleeve surgery) and revisional bariatric procedures.
Besides bariatric surgery, our practice includes general, advanced laparoscopic surgery. One of his main area of expertise is minimally invasive surgical treatment of gastro-esophageal reflux disease and hiatal or paraesophageal hernia.
When asked by his patients if he enjoys his work, Dr. Averbach is emphatic in his response. "Yes! Surgery is the passion of my life," he says. "Every craftsman – and surgery is a craft as much as it is a science – loves his or her creation. Meeting a challenge, something others cannot or do not want to do, brings a special sense of achievement."
Dr. Averbach is proud of the many lives he has saved or improved through bariatric surgery. "Sometimes a patient's life is completely turned around and they become able to achieve something that was unthinkable before surgery – there is nothing more rewarding to a surgeon to know that you are part of that," he says.
Ready to take the first step to weight loss?